VW Polo
or similar
Hatchback (
EDMR

)

5
286 L
5
AC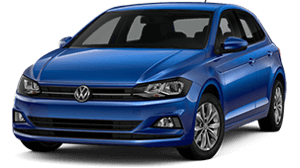 — 2019 —

The price shown includes: VAT, insurance CASCO CDW, RCA, road tax and unlimited mileage
Very easy to make a booking. The rental car was new and I will definetly be back. They were one of the few companies which would accept a debit card because their price already includes insurance.
Extra details and answers
What does the price include?

All rates include unlimited mileage, RCA insurance, road tax, vignette and CDW cover. After filling in the booking form the system will calculate automatically the total price for renting a car.

How old are the rental cars?

All cars are as a general rule newer than 3 years old. They have ESP/AFU and AC. Although we cannot guarantee 100% the level of equipment, but only the vehicle class, such new vehicles, imply a good fuel consumption and a very low probability of technical failure.
More questions? See the FAQ section.
Are you looking for a small car, economic car (with a low fuel consumption) with which you can sneak around town? Do you want to be safe on the road and have a storage space specific to a hatchback? We recommend Volkswagen Polo.

The fiability, passenger comfort and the storage space (the trunk has a volume of 286 litres and the back seats are located in a 2/3 system, so they can be folded in different positions) are the basic criteria that recommend this vehicle.

VW Polo also has central locking, an automatic system that controls the temperature and a high fidelity audio system (2 -DIN with 4 speakers, 2 twitters, and AUX, USB and Bluetooth connections). And as for your safety, the car has multiple airbags (front, sides), ABS and ESP systems and other small details that add safety (the rear window has sprayers and wipers, automatic headlights, turn signal by touch, doors with automatic unlocking in case of impact and automatic engine stop when the key is not nearby).
Toate tarifele includ TVA si asigurare RCA + CDW cu exces, si sunt valabile pentru masinile preluate in extrasezon (1 septembrie 2021 - 15 iunie 2022). Pentru alte perioade (de exemplu pentru 15 iunie - 01 septembrie 2021) tarifele variaza masiv. Completati formularul din dreapta pentru a va calcula o oferta concreta de pret in functie de perioada de inchiriere dorita si disponibilitate.