Mercedes GLC
or similar
SUV (
UEBV

)

5
550 L
5
AC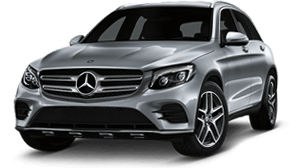 — 2019 —

The price shown includes: VAT, insurance CASCO CDW, RCA, road tax and unlimited mileage
Very easy to make a booking. The rental car was new and I will definetly be back. They were one of the few companies which would accept a debit card because their price already includes insurance.
Extra details and answers
What does the price include?

All rates include unlimited mileage, RCA insurance, road tax, vignette and CDW cover. After filling in the booking form the system will calculate automatically the total price for renting a car.

How old are the rental cars?

All cars are as a general rule newer than 3 years old. They have ESP/AFU and AC. Although we cannot guarantee 100% the level of equipment, but only the vehicle class, such new vehicles, imply a good fuel consumption and a very low probability of technical failure.
More questions? See the FAQ section.
We provide to the lovers of 4X4 class that does not neglect the safety - the new generation of Mercedes Benz GLC, certified as one of the safest SUV by the British from Euro NCAP. The new GLC comes with more space for passengers and also countless electronic assistance and safety systems that make driving a pleasure. Thanks to modern technologies, the vehicle consumes only 8.2 litres/100km (for a diesel engine).

In addition it has systems such as 4WD (system that only engages 4x4 in special running circumstances, thus saving fuel) and VSM (stability management system). The on-board computer runs the Steer application that allows handling of the vehicle in different ways depending on the road conditions. In addition, the car has radio/CD, as well as Bluetooth connection, USB/AUX and iPod.

Mercedes GLC is one of the safest cars, designed specifically to prevent accidents through the support systems listed above, as well as through ABS, ESP and a complex system of airbags that protects both the front passengers and the backseat occupants.


Toate tarifele includ TVA si asigurare RCA + CDW cu exces, si sunt valabile pentru masinile preluate in extrasezon (1 septembrie 2021 - 15 iunie 2022). Pentru alte perioade (de exemplu pentru 15 iunie - 01 septembrie 2021) tarifele variaza masiv. Completati formularul din dreapta pentru a va calcula o oferta concreta de pret in functie de perioada de inchiriere dorita si disponibilitate.